I'll be honest, I have never understood the allure of celebrity weddings. I mean really, I don't know these people! And more often than not, that marriage is going to end in under a year. So I just can't see trying to get excited over something that I have no personal connection too. And I guess I just assumed that Kate and William's would just affect me the same.
Of course, the Royal Family are not celebrities. They aren't famous for something like entertainment. They are famous because of how well loved they are. By the British, and the rest of the world.
Now I'm asking myself why it is that a wedding between two people on the other side of the world is so exciting for me?
I'm still not sure as to why, but I'm going to just roll with
it for now!
For those of you who didn't stay up to watch the nuptials or view them online, here are some details:
First of all, before the ceremony, Queen Elizabeth II gave both Prince William, and Princess to-be Kate each a total of 3 new titles. They are:
Prince William the: Princess Katherine the:
Duke of Cambridge Duchess of Cambridge
Earl of Strathearn Countess of Strathearn
Baron Carrickfergus Baroness Carrickfergus
The ceremony took place in the Westminster Abbey in front of 1,900 guests. After which they rode in an open carriage waving to their cheering subjects with smiles of adoration.
But nothing about the ceremony has been as blogged or tweeted about as
the kiss
. I've got to admit, that one baffles me. Why are people so excited about this? Are they surprised? Because that seems odd...doesn't everyone kiss their spouse?
Especially
on their wedding day? So I'm going to leave you all to fill me in there. Let me know why that is just SO exciting for everyone.
To be honest my favorite part of the whole thing was simply Princess Kate's dress, designed by Sarah Burton for Alexander McQueen (her sister also wore a dress by McQueen). It was so simple and subtle, but beautiful and elegant. It was modest, but not old fashioned. And I think it played off her mix of youth and grace very well.
Not that Prince William wasn't looking dapper, which he definitely was. He's a very handsome man after all!
I am not one of the people who would have woken up my kid to see it. (She's only 2 1/2 anyway, so she wouldn't appreciate it) But I think it was worth it to stay up to watch, if only to be witness to something that will become a part of history.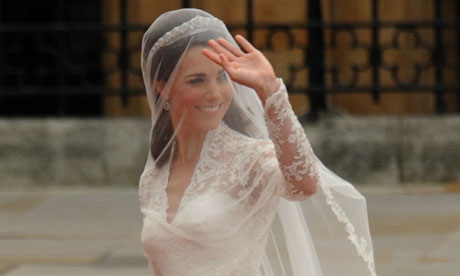 People have been writing for weeks, comparing Kate to Diana. I don't want to be one of them, but I'd like to share my thoughts.
I can't see the new princess being every bit as
influential as Princess Di, but why should she be? She has her own mark to make. She's a completely different person.
I can see that she looks happy, and unafraid to embrace the responsibilities that being a part of the Royal Family entails. She looks determined, and she looks like she's found her home. So Kudos to her!
And good luck to Prince Willliam and Princess Kate. We wish you all the best in your marriage.
We hope your special day was just that, special! And we can't wait to see some little ones running around again.
Congratulations!
♥ the girls at J.LiLy
Jessica at J.LiLy